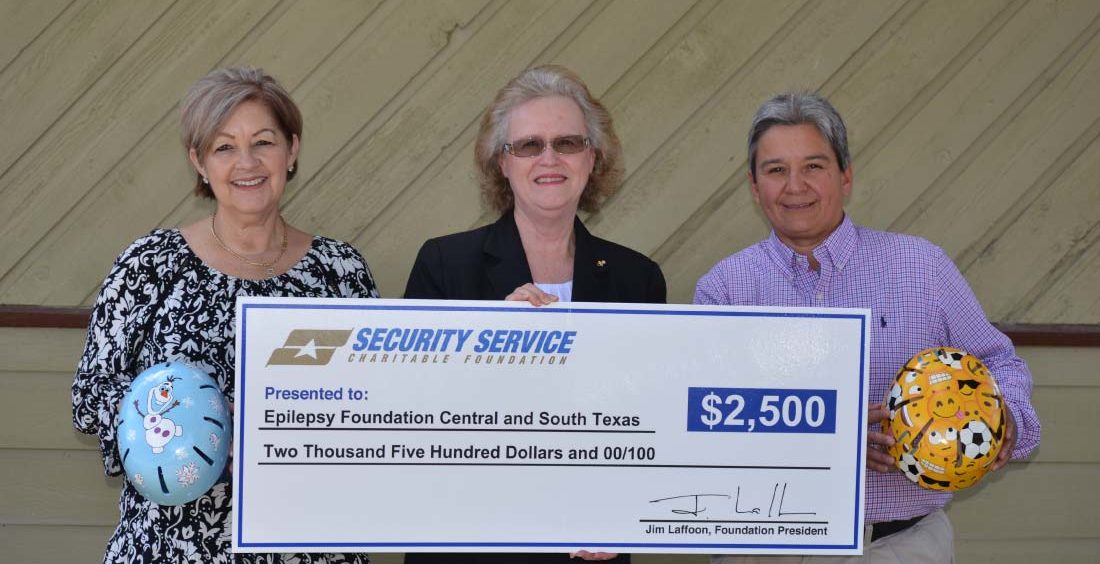 Security Service Charitable Foundation has presented Epilepsy Foundation Central & South Texas (EFCST) with a $2,500 donation to purchase custom-fit and medically necessary helmets for disadvantaged youth and adults with epilepsy.
EFCST is a non-profit organization dedicated to providing comfort and support for people with epilepsy and their families and caretakers. They strive to help people with epilepsy lead active, productive lives in supportive and bully-free communities, not letting their diagnosis define them. The organization's efforts span 79 Texas counties, allowing them to help nearly 21,000 individuals with epilepsy each year.
"Epilepsy affects all aspects of a person's life; learning to cope with and manage epilepsy takes a coordinated effort," said Sindi Rosales, CEO of EFCST. "Having partners like Security Service Federal Credit Union allows us to bring a stronger message to our community and provide even more support for the nearly 1 in 26 people that will develop epilepsy at some point in their lifetime."
"For someone with epilepsy, something as simple as a helmet can be lifesaving," said Gloria Onesty, board member for EFCST and vice president controller for Security Service Federal Credit Union. "These custom-fit helmets reduce the risk of injury from falls that occur with the unpredictability of seizures. Each helmet that we are able to fund provides safety and a sense of security for that individual and their caretakers. It can open up a whole new world of opportunities and adventures."
The Security Service Charitable Foundation helps further Security Service Federal Credit Union's corporate goal of community service by contributing to deserving organizations and causes in the credit union's market areas.